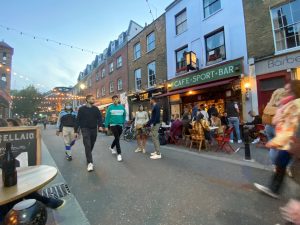 As Easter approaches, it is a time for reflection and celebration with family and loved ones. It is also a time when many people start to think about their property investments and the state of the property market. In this blog post, we will take a look at the property market in Exmouth Market, London and what makes this area a desirable location for property buyers and investors.
Exmouth Market is a vibrant and cosmopolitan area located in the heart of London. It is known for its eclectic mix of independent shops, cafes, bars, and restaurants. The area has a rich history and has been an important part of London's cultural landscape for many years. It is also well connected with excellent transport links to the rest of London.
The property market in Exmouth Market has remained buoyant in recent years, with a strong demand for both residential and commercial properties. This is due in part to the area's popularity among young professionals, artists, and creatives who are drawn to the area's lively atmosphere and cultural scene.
The average price for a one-bedroom flat in Exmouth Market is currently around £550,000, while a two-bedroom flat can fetch upwards of £900,000. The prices for larger properties such as houses can be significantly higher, with some properties exceeding the £2 million mark.
Despite the high prices, the property market in Exmouth Market continues to be in demand, with many buyers and investors attracted by the area's strong rental yields and potential for capital growth. The area is also considered to be a safe investment, with property prices in the area remaining relatively stable even during times of economic uncertainty.
If you are thinking of investing in property in Exmouth Market, it is important to seek the advice of a reputable estate agent who can help guide you through the buying process. They can provide you with valuable insights into the local property market and help you find the right property that meets your specific needs and budget.
As we celebrate Easter this year, let us take a moment to reflect on the importance of family and community. Whether you are a property investor or a resident of Exmouth Market, we wish you all a happy and joyous Easter celebration, filled with love, happiness, and prosperity.