3 Bedroom Home In Clerkenwell
New Family Home In The Heart Of The City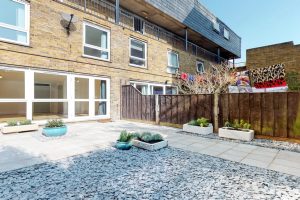 While the City of London is full of small apartments, one thing that is often hard to find is a good size family home. Of course the city is home to many single professionals, and indeed professional couples, but what do you do if your family is just that little bit bigger? Well, here at  AW Childs – estate agent of choice for the Barbican, Clerkenwell, Farringdon and the wider Islington area, we have a home that will suit even a large family that is looking for a family home to rent that is ideally located for city workers.
Situated right in the heart of Clerkenwell, this unfurnished, modern 3-bedroom maisonette has acres of space, and even features a garden! Fitted out to a very high standard, the home benefits from a recent refurbishment that has lovingly transformed this property into a comfortable and stylish family home.
The Property
The main thing that hits you when you enter the property is the sheer amount of space that is available. A rarity for the area, the property gives a real feeling of space and comfort. There is also natural light, and lots of it! The rear patio doors are enormous and bathe the living room in light. Upon entering, you come into a living room that offers significant flexibility due to its space. Big enough for a sofa, some furniture and even a dining table, the space is ideal for enjoying relaxing nights at home.
Moving on from the living room you enter the kitchen. Also recently refurbished, the kitchen features all the appliances that you could possibly need and an incredible amount of storage space that has been intelligently thought out to make a very neat and compact kitchen. Featuring distinctive blue tiling, under cabinet lighting and even a splashback, the kitchen has been designed to be not only used, but also be aesthetically pleasing.
Then there are the bedrooms. The three well proportioned rooms are ideal for a family. The master and two smaller bedrooms have all been recently refurbished and are ideal for a growing family, and you could even use one of the rooms as a guest room for when you have visitors. Whatever your sleeping arrangements, this property has the room to accommodate them.
The property also features a bathroom and even a guest WC. The master bathroom features a completely refurbished enclosed shower area over a bath. It also features an ultra-modern sink and toilet combination that is very sleek and fits the feel of the space perfectly. There is also a heated towel rail to give you nice warm fluffy towels on those cold winter mornings.
Then finally there is the garden. The garden features a full patio which makes for easy maintenance and makes it an ideal place to enjoy during the warmer months. As well as the outdoor space, there is also a very useful shed for additional storage. The garden is a beautiful suntrap and could make for a very enjoyable outdoor space for all the family.
Check out the property listing here.
The Area
Of course it isn't just the property that is astonishing, the local area is pretty good as well! Based in the heart of Clerkenwell, the property is ideally located for access to amazing places to visit such as Exmouth Market, Sadler's Wells Theatre and many other of London's amazing attractions.
Of course being located in the heart of Clerkenwell, you are also treated to some fantastic amenities. You couldn't be better placed for some of the world's best local entertainment and nightlife. There are also amazing shopping options locally and you will never be short of something to do, or somewhere to go.
We think this home is ideal for a family that needs to be based close to the City of London. Most homes in the capital require a trade off, this one does not. So for more information, or to book a viewing for this fantastic family home, call AW Childs today on 0203 693 9444 or email us at [email protected] and a member of our team will be happy to help. Call today as this rare family home will not be around for long.